Nearly 80 years after it was thought to have gone extinct, multiple witnesses have reported seeing a Tasmanian tiger.
According to a newly released document from Tasmania's Department of Primary Industries, Parks, Water and Environment, just this year there have been two sightings of the rare tiger, also known as a thylacine.
In July, a man claimed to have seen a Tasmanian tiger footprint in Sleeping Beauty mountain. One month later, a man reported that he believed "he saw a Tassie Tiger on his land seven years ago."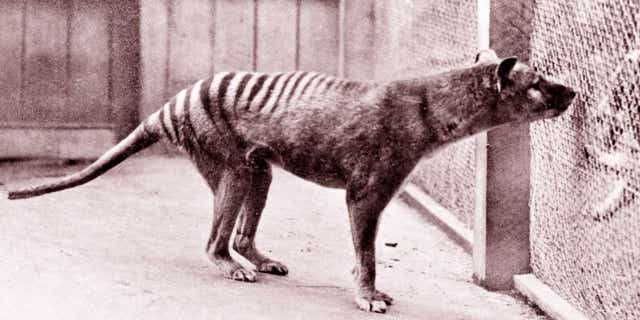 Benjamin, the last Tasmanian tiger in captivity, died in September 1936. (Credit: Getty Images)
CAN SCIENCE BRING THE TASMANIAN TIGER BACK FROM EXTINCTION?
There were also multiple reported sightings in 2018, including one woman who believes she saw a Tasmanian tiger and her two cubs at Hartz Mountains in November.
Another couple from Western Australia reported that they had seen one of the tigers after it crossed a road near their car in February 2018.
"An animal walked out slowly onto the road. [Redacted] was driving and stopped the vehicle," the report reads. "The animal walked from the right hand side of the road [redacted] (and [redacted] were heading south to Zeehan and Strahan) three quarters of the way across the gravel road, turned and looked at the vehicle a couple of times, and then walked back in the same 'run' it had come out of. It was in clear view for 12-15 seconds.
"The animal had a stiff and firm tail, that was thick at the base. It had stripes down it's back. It was the size of a large Kelpie (bigger than a fox, smaller than a German Shepherd). The animal was calm and did not act scared at all. Both [redacted] and [redacted] are 100 [percent] certain that the animal they saw was a Thylacine."
In total, there have been eight reported sightings of the Tasmanian tiger since 2016. News of the document's existence was first reported by The Independent.
In 2017, a grainy and fleeting videotape reportedly showed Tasmanian tigers in their natural state: one walking slowly at a distance, one with its nose at the camera lens and another with a cub.
A study published in December 2017 suggested that thanks to advancements in DNA research, it may be possible to bring the thylacine, which first appeared 4 million years ago, back from extinction.
The Tasmanian tiger, a striped marsupial carnivore, was thought to have gone extinct after Benjamin, believed to be the last member of the species, died in captivity in the Hobart Zoo in September 1936.