President Trump apparently didn't take it personally Sunday night when many Washington Nationals fans booed him at Nationals Park after he arrived to see Game 5 of the 2019 World Series.
On Wednesday night, after the Nationals defeated the Houston Astros in Game 7 in Texas, to claim the team's first world championship — and the first for the nation's capital since 1924 — the president acknowledged the D.C. team's achievement in a Twitter message.
"Congratulations to the Washington Nationals on a great season and an incredible World Series," the president wrote. "Game 7 was amazing."
TRUMP ROUNDLY BOOED BY WORLD SERIES CROWD AS FANS YELL, 'LOCK HIM UP'
The Nationals won in come-from-behind fashion, smacking a pair of home runs in the seventh inning on their way to a 6-2 win in the final game of a Fall Classic that saw the visiting team win all seven games. Washington starting pitcher Stephen Strasburg, a soon-to-be free agent, was named the Series MVP.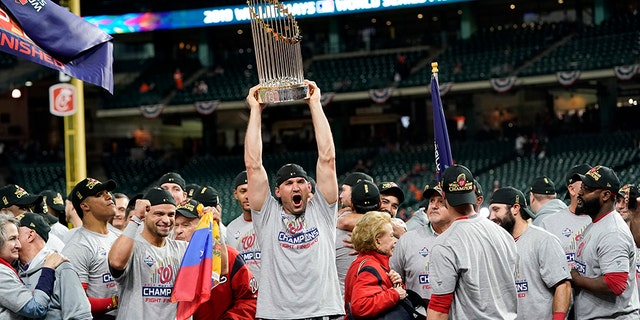 Washington Nationals catcher Yan Gomes celebrates the the trophy after Game 7 of the baseball World Series against the Houston Astros Wednesday, Oct. 30, 2019, in Houston. The Nationals won 6-2 to win the series. (Associated Press)
.
In addition to Trump, others sent their congratulations to the newly crowned champions – including Washington's other professional teams, such as the NHL's Washington Capitals and NBA's Washington Wizards.