Scientists at the University of Copenhagen have extracted a Stone Age woman's DNA from 5,700-year-old "chewing gum."
The "gum" is made from birch pitch, according to researchers, and was once chewed by the Stone Age woman. Birch pitch is a substance made by heating birch bark. Researchers successfully extracted a complete human genome from the birch pitch, which was found in Southern Denmark.
"It is amazing to have gotten a complete ancient human genome from anything other than bone," project leader Hannes Schroeder, an associate professor at the University of Copenhagen's Globe Institute, said in a statement. "What is more, we also retrieved DNA from oral microbes and several important human pathogens, which makes this a very valuable source of ancient DNA, especially for time periods where we have no human remains."
EXPERTS HARNESS TECH TO RECONSTRUCT FACE OF 'WITCH' WHO DIED OVER 300 YEARS AGO
DNA analysis revealed that the birch pitch was chewed by a female, who is described as genetically closer to hunter-gatherers from mainland Europe than the inhabitants of Scandinavia at that time. Researchers believe that the woman likely had dark skin, dark hair and blue eyes.
Armed with this information, an artist's impression of the woman, dubbed "Lola," was created.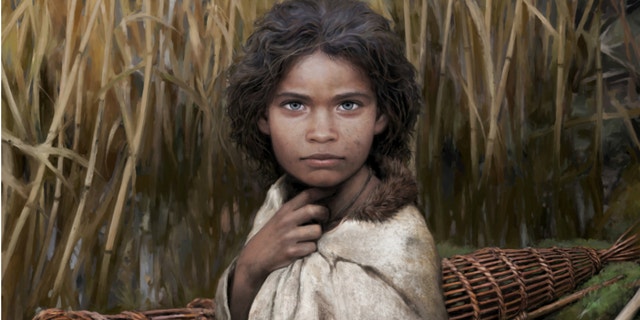 An artist's impression of the Stone Age woman dubbed "Lola."
(Illustration by Tom Björklund)
Scientists also found DNA that could be related to the Epstein-Barr virus, underlining how items such as the Stone Age "chewing gum" could offer insight into the development of human pathogens.
"It can help us understand how pathogens have evolved and spread over time, and what makes them particularly virulent in a given environment," Schroeder said. "At the same time, it may help predict how a pathogen will behave in the future, and how it might be contained or eradicated."
DNA DISCOVERY IDENTIFIES LIVING DESCENDANTS OF BIBLICAL CANAANITES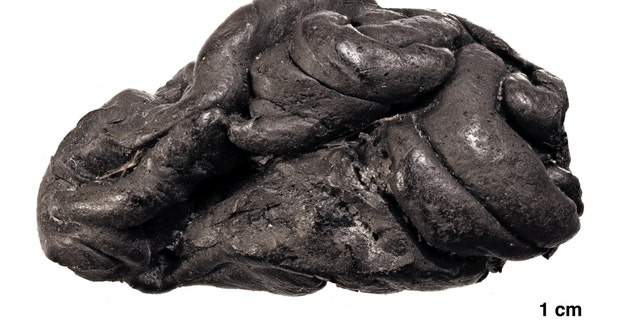 The birch pitch discovered in Southern Denmark. (Photo: Theis Jensen)
A study on the research is published in the journal Nature Communications.
CLICK HERE TO GET THE FOX NEWS APP
Scientific and technological advances offer a fascinating glimpse into the past. In 2017, for example, experts in Scotland used 3D-technology to reconstruct the face of an 18th century "witch."
Follow James Rogers on Twitter @jamesjrogers