On this day, Oct. 22 …
1979: The U.S. government allows the deposed Shah of Iran to travel to New York for medical treatment — a decision that precipitates the Iran hostage crisis.

 

Also on this day:
1797: French balloonist Andre-Jacques Garnerin makes the first parachute descent, landing safely from a height of about 3,000 feet over Paris.
1934: Bank robber Charles "Pretty Boy" Floyd is shot to death by federal agents and local police at a farm near East Liverpool, Ohio.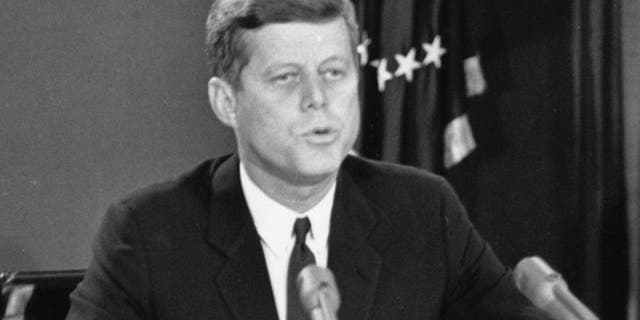 1962: In a nationally broadcast address, President John F. Kennedy reveals the presence of Soviet-built missile bases under construction in Cuba and announces a quarantine of all offensive military equipment being shipped to the Communist island nation.
1981: The Professional Air Traffic Controllers Organization is decertified by the federal government for its strike the previous August.
1986: President Reagan signs into law sweeping tax-overhaul legislation.
1991: The European Community and the European Free Trade Association concludes a landmark accord to create a free trade zone of 19 nations by 1993.
1995: The largest gathering of world leaders in history marks the 50th anniversary of the United Nations.
1998: The government advises parents to remove the batteries from their kids' "Power Wheels" cars and trucks, made by Fisher-Price, because of faulty wiring that could cause them to erupt into flame.
2001: A second Washington, D.C., postal worker, Joseph P. Curseen, dies of inhalation anthrax.
2002: A bus driver, Conrad Johnson, is shot to death in Aspen Hill, Md., in the final attack carried out by the "Beltway Snipers."
2018: President Trump declares that the U.S. would start cutting aid to three Central American countries he accuses of failing to stop thousands of migrants heading for the U.S. border. 
2018: A bomb is found in a mailbox at the suburban New York home of liberal billionaire philanthropist George Soros; federal agents safely detonate the device after being summoned by a security officer.