A magnitude-6.4 earthquake shook Albania early Tuesday, causing damage in the area centered about 20 miles from the capital Tirana, killing at six people, injuring at least 300 and collapsing buildings.
The quake, at a depth of 6.2 miles, was felt along the Albanian coast.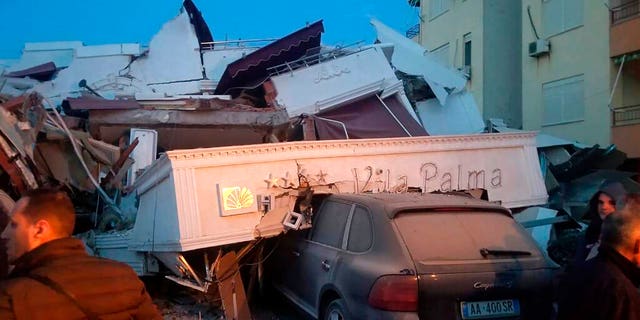 People stand next to a damaged hotel after an earthquake, in Durres, western Albania.
(AP)
In total three deaths were reported in Durres, two in the northern town of Thumane, and one in Kurbin, an Interior Ministry spokesman told the Associated Press.
An Interior Ministry spokesman told Reuters he was informed one person died when they jumped out of a window during the shaking and another died in a building collapse.
"Firefighters and army staff are helping residents under the rubble," the official said.
Meanwhile, President Ilir Meta told journalists from Thumane, 36 kilometers (22 miles) north of the capital, Tirana, "the situation is very dramatic. All efforts are being done to take the people out of the ruins."
Health Minister Ogerta Manastirliu said some 300 injured people have already been treated in Durres, Tirana and Thumane, with more arriving.
People reported seeing cracks in their apartment walls and were seen leaving homes to go to open areas.
Local media reported a restaurant was destroyed in western Durres.
A September earthquake damaged hundreds of homes.
The Associated Press contributed to this report